Gearbox CEO, Randy Pitchford, accidentally spilled some information regarding the Borderlands movie adaptation and its director. Some were even able to capture a screenshot of yesterday's tweet before it was quickly deleted.
It seems that Eli Roth, known for his work on Cabin Fever, Hostel, and Grindhouse, will be taking the mantel of director for this project. These films are jam-packed with gore and viscera, so it makes sense that Eli has joined the Borderlands crew.
Assisting with the movie's development are Lionsgate and Arad Productions. The prior is a huge corporation with divisions across film, television, games, and more. The latter was founded by Avi Arad, founder and producer of Marvel Studios. He produced the recent Spider-Man: Into the Spider-Verse (Which in my opinion is an absolute wonder of a movie). It's safe to say my hopes for this movie are high.
I do have a lingering fear though. Movie adaptations of games are notably horrendous. Take 2003's House of the Dead as an example. It follows a cliche "teen party goes wrong" narrative and only achieves laughter through true disbelief in how bad a script can be. Not to mention that scene transitions are filled with a clip of actual gameplay footage. That movie was just a lazy attempt to make money from video game enthusiasts.
In previous tweets, Randy has mentioned that there would be big announcements at Pax East. We already know that Borderlands 3's second campaign DLC will be appearing during the show, so I wonder if there is anything else the Gearbox CEO has hiding up his sleeve. Personally, I'm hoping that this second DLC contains more of the B-Team (Brick, Mordecai, and Tina) or possibly features some more Borderlands 2 characters getting involved. Maybe we'll just get another card trick from Randy instead, who's to say really?
If you want to watch the news play out live then be sure to catch the stream of the Main Theatre Show on Twitch on February 27th at the times listed below.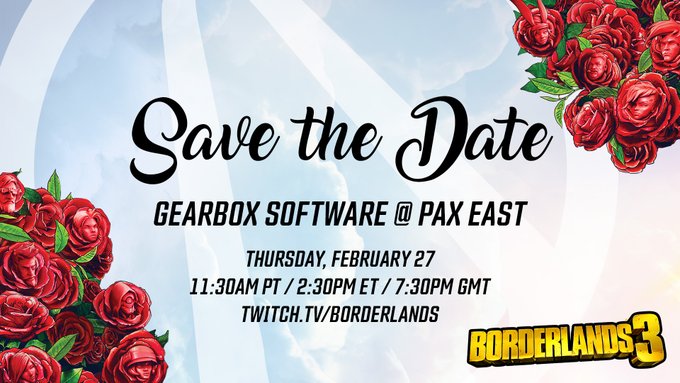 Latest posts by Jamie Heathorn
(see all)