Venom took everyone by surprise when it was released back in 2018. The movie was goofy, absurd and a mess due to various studio interferences which were clearly visible. As one watches that movie it's easy to notice various awkward cuts. When Venom is just about to eat someone being just one example. All this added up to make a bad but really entertaining movie. It was like a superhero B-movie.
But the main aspect of that movie that many have enjoyed was the relationship between Eddie and Venom. The relationship between them hinted at a buddy comedy, perhaps even a romantic dynamic. I mean there is a scene in Venom (2018) where they both literally kiss. The movie feels like a scattershot of ideas, out of which a few landed really well. And there are other ideas that fell completely flat.
How does one follow up a movie like that? Venom: Let There Be Carnage follows it up by embracing the weirdness of the tone. Now it is clearly a schlocky B-movie. And more importantly, the sequel completely doubles down on the relationship between Eddie and Venom. The movie essentially follows them as they investigate and fight Cletus and Carnage. They are clearly like a couple who have been with each other for some time and even argue like one.
But unlike most couples, they argue about why they should or should not be eating brains. But still, my point holds. Maybe, the only kind of odd thing is the fact that Venom is trying to get Eddie together with Ann, but it's still cute as Venom pushes Eddie to look good to impress her.
If all this is not clear enough for most audiences, there are a couple of scenes where they essentially have a couples squabble about how Eddie is not apricating Venom. And it gets a bit abusive from both sides. This is the point of the movie where they part ways as they are sick of each other.
Even Director Andy Serkis is clear on how it is a couple breaking up. As a result, the fight lead to Venom going out to party and literally says that he is coming out of the "Eddie closet". All this while saying to a woman who approaches him that she is not his type. Venom: Let There Be Carnage is very openly embracing the relationship between our main characters. They actually do defeat Carnage by the end with their power being in synch and understanding each other.
Discounting the post-credits scene, the movie essentially ends with them on the run as both sit in the sand next to each other staring at the sun. As Venom says something about loving someone even when they are not perfect. And Eddie responding with "Did you just say you love me?" as they just sit together staring at the sun.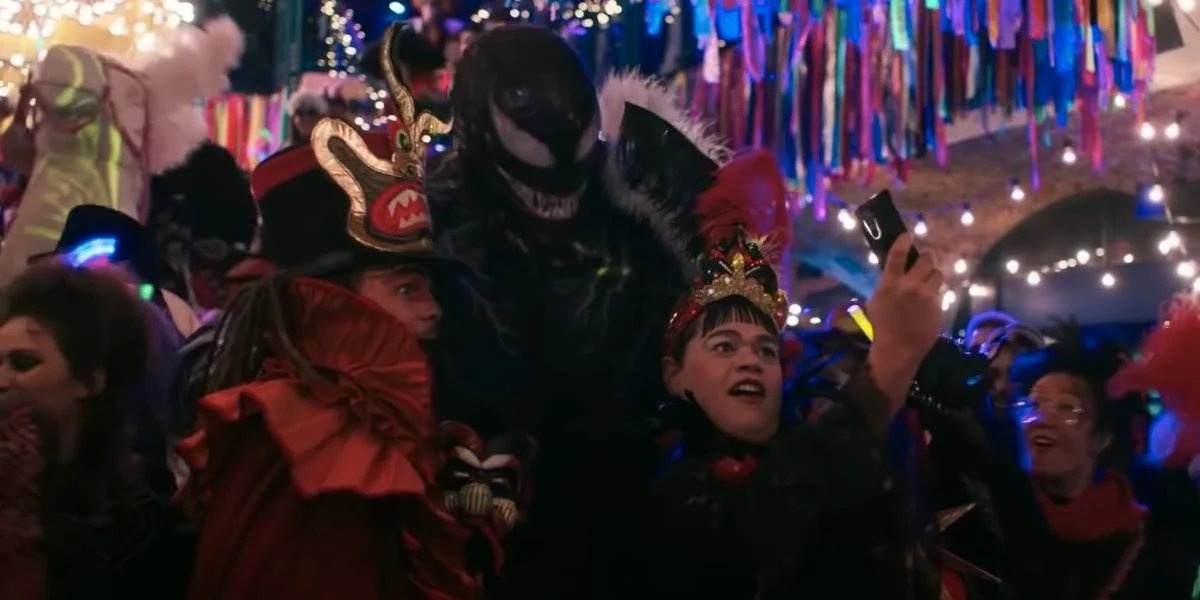 Venom: Let There Be Carnage is an oddball of a movie and I am thankful for that. The movie is not very very good by any terms but it is absurdly entertaining. In an age where the MCU dominates the world and often homogenizes interesting ideas to fit in their universe, I am thankful that we got a superhero B-Movie that plays like a romantic comedy.