With every month comes an exciting amount of new movies, but we have only chosen the best from April 2022 movies based on how interesting the stories are, past experience of people who worked on cinematography or music, the casting, and multiple other factors that will easily show you why each recommendation is worth your time and money. There is as always something in April 2022 Movies for everyone: Blockbusters, Animations, Documentaries, and other masterpieces that cover multiple genres and languages from around the world.
April 2022 Movies
---
Morbius
April 1, 2022
Synopsis: One of Marvel's most compelling and conflicted characters comes to the big screen as Oscar winner Jared Leto transforms into the enigmatic antihero, Michael Morbius. Dangerously ill with a rare blood disorder, and determined to save others suffering the same fate, Dr. Morbius attempts a desperate gamble. What at first appears to be a radical success soon reveals itself to be a remedy potentially worse than the disease.
Director: Daniel Espinosa, known for Easy Money, Child 44, Life, and the upcoming superhero film, Morbius.
Written by: Matt Sazama & Burk Sharpless, best known for writing films together, like Dracula Untold, The Last Witch Hunter, and Gods of Egypt.
Starring: Jared Leto, Matt Smith, Adria Arjona, Jared Harris, Al Madrigal, Tyrese Gibson

Cinematography: Oliver Wood, known for his work on blockbuster action and comedy films such as Die Hard 2, Face/Off, Freaky Friday, Talladega Nights: The Ballad of Ricky Bobby, and the Bourne franchise.
Music: Jon Petter Ekstrand, also known for Easy Money, Child 44, Life, and the upcoming superhero film, Morbius.
Producers: Avi Arad (Into The Spider-Verse), Matt Tolmach (Multiple Spiderman Movies and other works), Lucas Foster (Equilibrium, Jeepers Creepers 2, Bad Boys).
Running time: 104 minutes
Genre: Action, Adventure, Drama
Comics to read before watching Morbius:
Ultimate Morbius: Original Vamprisim Story.
Amazing Spider-Man #101-102, and the Marvel Team-Up #3-4: Origin Story
Rise Of The Midnight Sons and Midnight Suns Unlimited: Drastic turn in Mobius's character
Legion Of Monsters: More Insight into Mobius's Character
Maximum Carnage: Cooperation with Spiderman
Lizard: No Turning Back: Another Adventure with Spiderman and Lizard
Morbius #1-5 (2019): Modern Mobius Storyline.
The Man Called Morbius: The Most relevant one to the movie.
Return to Space
April 7, 2022
Synopsis: For the first time, Oscar-winning directors Elizabeth Chai Vasarhelyi & Jimmy Chin point their lenses to the sky, covering the inspirational rise of SpaceX as well as Elon Musk's two-decade effort to resurrect America's space travel ambitions. Offering rare access inside the first crewed mission launched from U.S. soil since the retirement of the Space Shuttle in 2011, this is an intimate portrait of the engineers and astronauts chosen for the historic moment. Following NASA veterans Bob Behnken, Doug Hurley, and their families in the leadup to launch, Return To Space brings viewers along for their thrilling ride to the International Space Station, and into mission control with Musk and the SpaceX team as they bring them back to Earth for a dramatic splashdown.
Director: Jimmy Chin and his wife, E. Chai Vasarhelyi. (Documentary films Meru and Free Solo, the latter of which won an Academy Award for Best Documentary Feature at the 91st Academy Awards.)
Written by: Matt Sazama & Burk Sharpless, best known for writing films together, like Dracula Untold, The Last Witch Hunter, and Gods of Egypt.
Starring: Elon Musk
Producers: Jimmy Chin, E. Chai Vasarhelyi, Anna Barnes
Running time: 128 minutes
Genre: Documentary Films, Science & Nature Docs
The Girl & The Spider
April 8, 2022
Synopsis: In their follow-up to The Strange Little Cat, Ramon and Silvan Zürcher compose a poetic panopticon of relationships that circle Mara as her roommate Lisa prepares to move out of their apartment. As furniture is moved, walls are painted and day turns to night, secret longings rise to the surface and coalesce around the roommates and an ever-expanding cast of characters–both human and non-human. The Girl & The Spider is the second installment within a trilogy about human togetherness. A ballad about the need for closeness and the pain of separation. One of the best April 2022 movies that you should keep your eye on.
Director: Ramon and Silvan Zürcher. (The Strange Little Cat)
Written by: Ramon and Silvan Zürcher.
Starring: Henriette Confurius (German Actress, Known for Tribes of Europe.) The cast also includes Ursina Lardi (The White Ribbon), Flurin Giger, André Hennicke (A Dangerous Method), Ivan Georgiev, Dagna Litzenberger-Vinet, Lea Draeger, Sabine Timoteo and Birte Schnöink.
Cinematography: Alexander Haßkerl
Music: Katharina Brand, Ramon Zürcher
Producers: Adrian Blaser, Aline Schmid.
Running time: 99 minutes
Genre: Drama
Fantastic Beasts: The Secrets of Dumbledore
April 15, 2022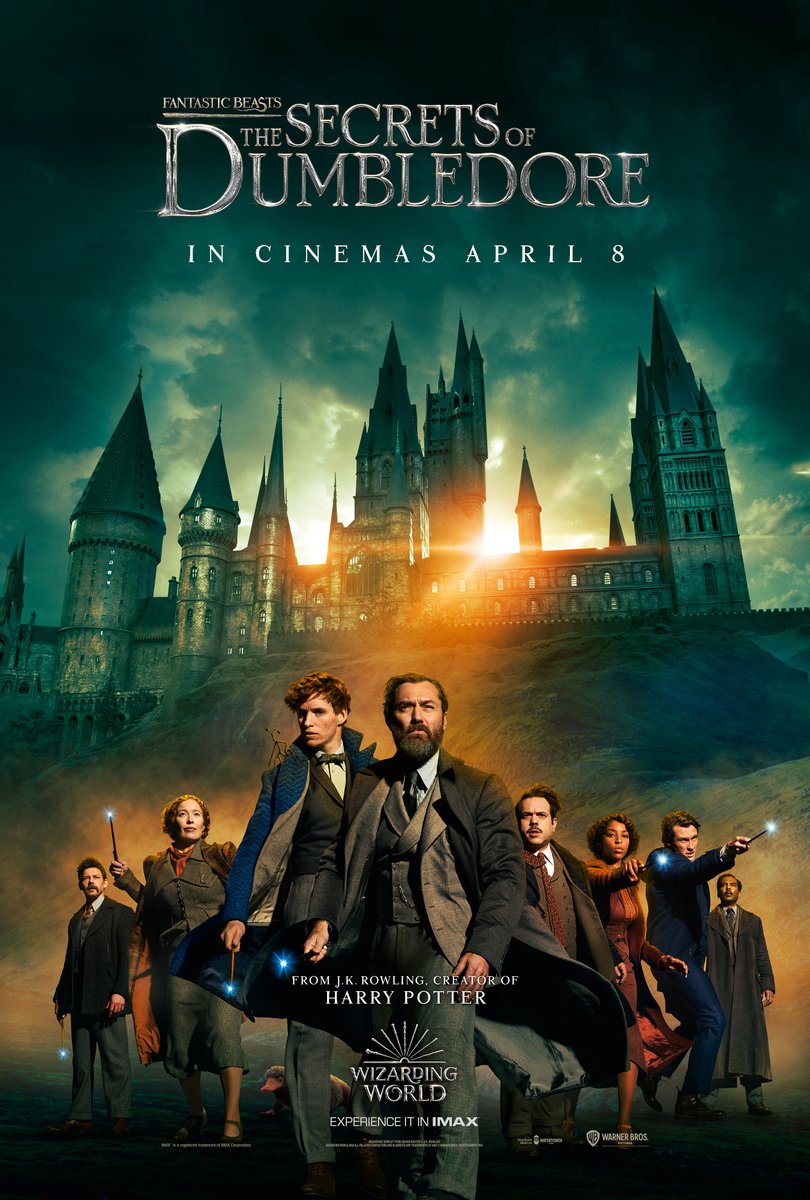 Director: David Yates (Harry Potter Series)
Written (Screenplay) by: J. K. Rowling, Steve Kloves
Starring: Eddie Redmayne, Jude Law, Ezra Miller, Dan Fogler, Alison Sudol, Callum Turner, Jessica Williams Katherine Waterston, Mads Mikkelsen
Cinematography: George Richmond (Kingsman: The Secret Service, Tombraider)
Music: James Newton Howard (The Dark Knight, Most directors M. Night Shyamalan and all of Francis Lawrence's films)
Producers: Warnerbros Pictures
Running time: 142 minutes
Genre: Adventure, Family, Fantasy
The Northman
April 22, 2022
Director: Robert Eggers (The Witch, The Light House)
Written by: Sjón (Reykjavik Whale-Watching Massacre, Lamb) and Robert Eggers
Starring: Alexander Skarsgård, Nicole Kidman, Claes Bang, Anya Taylor-Joy, Ethan Hawke, Björk, Willem Dafoe Gustav Lindh

Cinematography: Jarin Blaschke (The Light House)
Music: Robin Carolan, Sebastian Gainsborough.
Producers: Regency Enterprises
Running time: 136 minutes
Genre: Action, Adventure, Drama
Charlotte
April 22, 2022
Synopsis: Charlotte is an animated drama that tells the true story of Charlotte Salomon, a young German-Jewish painter who comes of age in Berlin on the eve of the Second World War. Fiercely imaginative and deeply gifted, she dreams of becoming an artist. Her first love applauds her talent, which emboldens her resolve. But the world around her is changing quickly and dangerously, limiting her options and derailing her dream. When anti-Semitic policies inspire violent mobs, she leaves Berlin for the safety of the South of France. There she begins to paint again, and finds new love. But her work is interrupted, this time by a family tragedy that reveals an even darker secret. Believing that only the extraordinary will save her, she embarks on the monumental adventure of painting her life story.
Director: Eric Warin (The Triplets of Belleville, Leap) and Tahir Rana (Welcome to the Wayne, Rob the Robot)
Written by: Erik Rutherford and David Bezmozgis
Starring: Keira Knightley, Brenda Bleythyn, Jim Broadbent, Sam Claflin, Eddie Marsan, Helen McCrory, Sophie Okonedo, Mark Strong
Music: Michelino Bisceglia. (In the Name of the Son, Little Glory)
Producers: Julia Rosenberg, Jérôme Dopffer, Eric Goossens, Anton Roebbens.
Running time: 92 Minutes
Genre: Drama, Animation, Historical, True Story
Pompo the Cinephile
April 29, 2022
Synopsis: "Pompo" (the nickname for Joelle Davidovich Pomponette) is a talented, gutsy producer in "Nyallywood," the movie-making capital of the world. Although she's known for B-movies, one day Pompo tells her movie-loving but apprehensive assistant Gene that he will direct her next script: a delicate drama about a tormented artistic genius, starring the legendary and Brando-esque actor Martin Braddock, and a young actress seeking her first break. But when the production heads towards chaos, can Gene rise to Pompo's challenge, and succeed as a first-time director?
Director: Takayuki Hirao (credited for work with Ufotable on The Garden of Sinners: Paradox Spiral, Gyo, Majocco Shimai no Yoyo to Nene, and God Eater.)
Written by: Takayuki Hirao
Music: Kenta Matsukuma
Producers: CLAP
Running time: 90 minutes
Genre: Shojo
Latest posts by Mohamed Hassan
(see all)