The Playstation 5 and the Xbox Series X have made their debut, and PC continues to get new graphics cards that will surely pave the way for the future. Despite this, the Nintendo Switch continues to be a reliable and handy gaming tool with new gamers joining its user base every day. You can find a variety of different games on the platform from 1st party exclusives, 3rd party ports of older games, and plenty of indie games that feel right at home.
So whether you're new to the Nintendo Switch, or just looking to expand your games library, here are a few free-to-play games you can find on the eShop. We'll be skipping over some of the more mainstream games such as "Fortnite" or Mobile games such as "Pokemon Cafe". 
Delta Rune Chapter 1
The first title on this list is just a small taste of a yet to be released game. However, seeing as it acts as a sequel to Toby Fox's masterpiece "Undertale" we feel like it is worth mentioning. "Deltarune" brings the world of Undertale back in a brand new way. As always there are plenty of quirky characters to meet and even some old favorites to rediscover. Things, however, are not what they seem
Deltarune" follows the story of Kris as they find themselves plunging headfirst into the Dark World. Here, they must team up with a monster (Susie) and a prince (Ralsei) in order to fulfill a prophecy and bring balance between the light and the dark. "Deltarune" has all the charm of the original as well as an equally good soundtrack. 
The gameplay is very similar to "Undertale" but with a few new tweaks. This time you control multiple characters at once, each with their own abilities and equipment. True to its predecessor, "Deltarune" offers players multiple options for taking down enemies. How will this affect the future of our heroes? Only time will tell.
Warface
If you're expecting "Call of Duty" to ever show up on the Nintendo Switch then don't hold your breath. Luckily there is an alternative that should hold you over. "Warface" is a Free-To-Play first-person shooter. You have your team deathmatches, you have your free for alls, you even have some PvE game modes that pit you and other players against AI. 
As a Free-to-Play game, microtransactions are expected. Some weapons require in-game currency to acquire which can only be found by grinding until you have enough money. Warface uses a rental system for its weapons, meaning unlocking them is not permanent. However, the game can be enjoyed without emptying your wallets. The base gameplay is enough to satisfy your cravings for a mobile first-person shooter. As a bonus, gyroscopic controls are also available allowing you to aim by moving the joycons.
Despite being ported to Switch, "Warface" doesn't look half bad and runs smoothly enough. If you're new to the Nintendo Switch and want to see how the system handles higher spec games then use this as your test run. It will save you the trouble of accidentally buying a port only to find out it runs at suboptimal levels. 
Rocket League
"Rocket League" is free-to-play on the Nintendo Switch. If you've never played what is essentially "Car Soccer" then this is the perfect opportunity to try it out. Kicking the ball is no fun, choose a car instead, then ram into the ball as fast as you can and hope it goes into the goal. Score more points than your opponents to win. That's just the start of the fun, though. Feeling more competitive? There are 3v3 tournaments daily that you can join and increase your rank. Play with friends or try your hand with randoms.
Seeing as the game went free-to-play only a few months ago, a battle pass has been introduced. Luckily, there are multiple tiers you can unlock for free just by playing the game, doing weekly challenges, and experiencing everything the game has to offer. There is also a premium option, however, it is unnecessary to fully enjoy the game.
The Switch version of "Rocket League" features split-screen co-op so pass the joycon and get a second player to join in. There are plenty of cars to unlock as well as some exclusive Mario Bros and Metroid skins you won't find anywhere else.
Super Kirby Clash
How about some first-party titles? The Nintendo Switch does have a few first-party titles available for free. "Super Kirby Clash" is one of them. "Super Kirby Clash" adds a new spin to the classic Kirby gameplay. Rather than sucking up enemies to gain abilities, each player selects a class, similar to an RPG. They must then go fight different bosses in order to gain XP and unlock new gear.
"Super Kirby Clash" can be played with up to 4 players. If you're not playing online your party will be made up of AI. Strategy and coordination are key to clearing boss fights. So if you're playing with friends be sure to consider each boss's strengths and weaknesses. You will find that there are many familiar faces amongst your enemies as well as some fan-favorite characters from Kirby's past.
So what's the catch? Well, "Super Kirby Clash" has an in-game currency known as Gem Apples. This hard to farm currency unlocks different bosses as well as opens the door for players to gain even better loot. It also has a variety of different uses in battle as well as being used to restore Vigor. What is vigor you may ask? Vigor is this game's energy meter which is depleted each time you accept a quest. It replenishes with time but the further you progress the more you will need to perform actions. Regardless, the game is still fun and will definitely hold you over until you can get your hands on a mainline Kirby game.
Dauntless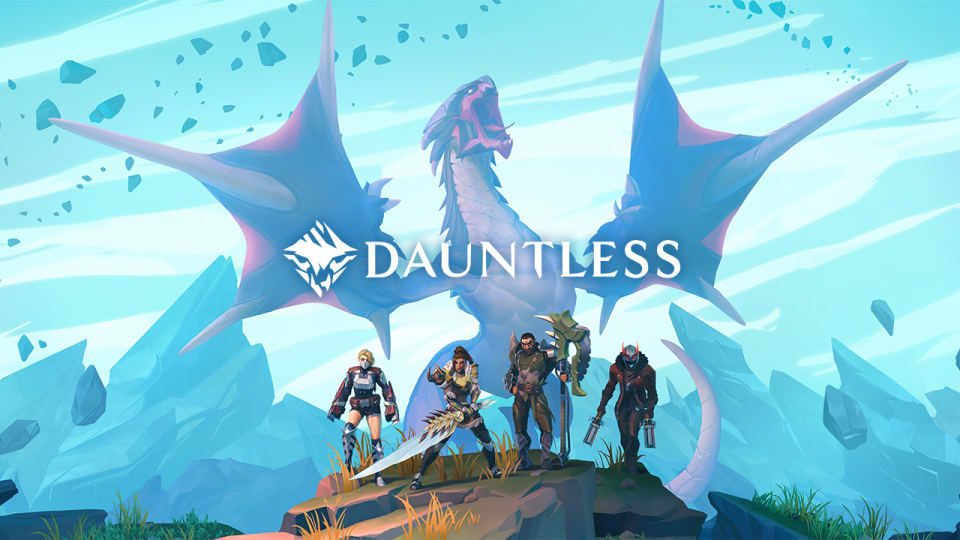 Do you like hunting monsters but don't feel like breaking the bank for "Monster Hunter"? Well, why not try "Dauntless"? Take the role of a slayer in this Fantasy RPG. Take down behemoths, loot them, then upgrade your weapons and skills for the next big challenge. The best part is you don't have to do it alone. "Dauntless" gives you the "Monster Hunter" experience while at the same time making it easier for newcomers to get into the monster hunting genre. 
here are a variety of different weapon styles to try out. Dual pistols, spears, and giant swords are just some of the many options available for players to build their class around. Combat is smooth and each weapon has its own attack combos for dealing even more damage. There are also a variety of missions to complete and earn rewards for. 
Dauntless is one of the more graphically pleasing games on this list. Its artistic direction transfers well onto the Nintendo Switch and is a welcome addition to the handheld experience.
Freedom!
There are plenty of games to explore on the Nintendo eShop. So it's a good thing some of them are free-to-play. Did you find something new today? Now that you're all geared have fun enjoying your Nintendo Switch! Got a Switch Lite? Check out this other article on essential handheld games!
Latest posts by Alexander Pinera
(see all)