UPDATE: since this article was published DIRT 5 had been delayed from October 16th 2020 to Novmber 6th 2020.
Original story:
Codemasters are back, this time with a new entry in the DiRT series and it's called DIRT 5 (they capitalised the "i", it's not a typo).
DIRT 5 is looking quite different to more recent DiRT entries and just like the logs on exit, you'll be wanting to watch out for it. That was a rally joke if you are a bit baffled.
Arcade Focus
The last release in the DiRT franchise was DiRT Rally 2.0 last year, a great follow up to the excellent DiRT Rally. Both of these titles were pretty hardcore sim racers, depicting the knife's edge of Rally that is blitzing around a Greek mountain sideways or finding yourself wrapped around a tree.
In between these two, though, we got a mainline entry with DiRT 4. It wasn't bad but it wasn't fantastic either. It wasn't as good as the Rally games on the sim side while also failing to deliver the arcade goodness that was the first three DiRT games. From the get-go, it was clear to see that DiRT 4 didn't quite know what it wanted to be. With the "Gamer" and "Simulation" choice you had to make, which would decide how the game would play.
But DIRT 5 does know what it wants to be as it's going full arcade. Bringing with it crazy slides, big jumps, extreme weather, and a heaping of colour. Thanks to the points made above and its arcade handling model.
DIRT 5 will have you flinging an Impreza through the air under the strikes of a lighting storm. I'm sure we'll get some top screenshots from moments like this. The injection of bright colours differentiate it from the hardcore DiRT Rally games and help drive home the game's arcade and less serious nature.
In Codemasters' own words, DIRT 5 is "a playful, dynamic, amplifier off-road racing experience".
Car Classes
If variety is the spice of life, then DIRT 5 seems set to get things right. With thirteen car classes in total, you'll have plenty of different types of cars to take for more than a spin.
These classes are: (descriptions from Codemasters)
Modern Rally
"Take today's powerful and incredibly engineered off-road racers into a completely new world. The likes of the Citroen C3 R5 represent the peak of modern mechanical race-craft, which you're free to tear around DIRT 5's unique extreme locations and events – both circuit and point-to-point."
80s Rally
"A golden age of off-road racing, no DIRT game would be complete with some of the most successful off-road cars of the 1980s. We're combining series favourites such as the Ford RS200, with incredible newcomers like the Porsche 959 Prodrive Rally Raid, for a class that just gets better over time."
90s Rally
"Relive a time when off-road truly went mainstream, and recreate rivalries with the Subaru Impreza S4 and Mitsubishi Lancer Evo VI. We're also giving some love to the more pint-sized extreme machines of the 1990s – keep an eye out for those!"
Classic Rally
"Roll back the years with iconic machines that popularised the concept of going fast and flat-out on any possible terrain. From the Fiat 131 Abarth Rally, to the Porsche 924 GTS Rallye, these off-road heroes will remind you that age is but a number with some serious power and performance."
Rally Cross
"A staple of DIRT games, the cars in our rally cross class are designed for all-terrain speed and getting sideways as soon as possible. Perfect for our tighter circuits and twisty corners, the likes of the Peugeot 208 WRX can turn on a dime and go from 0-60 almost as quickly."
Unlimited
"Trucks. Big trucks. Trucks built for the most demanding off-road events in the world. Trucks that'll give you the confidence to floor it and power over all the rugged terrain DIRT 5 has to offer. Jump in the Jimco Unlimited Truck, Brenthel Industries Unlimited Truck and more and show the most challenging events who's really in charge."
Super Lites
"Low on excess weight, high on action, these rockets have power-to-weight ratios that'll make your eyes water. Have fun taming the Ariel Nomad Tactical, Exomotive Exocet Off-Road, and more. These compact cars are built for all-terrain speed and an all-out assault on the senses."
Formula Offroad
"This class houses our monstrous WS Auto Racing Titan – a true off-road beast with huge ridged tyres and incredible power. Ideal for DIRT 5's Stampede events, the Formula Off Road class is where you go for something capable of traversing just about anything – and fast."
Rally GT
"Even the most refined GT cars built for tarmac can't help but get DIRTy. The Rally GT class brings you these desirable cars kitted out with off-road specs, including the Aston Martin V8 Vantage GT-4, and Porsche 911 R-GT."
Sprint
"The DIRT 5 class dedicated to our truly incredible sprint car, sporting wheels of all different sizes, huge wings and 900bhp – perfect to rip up dirt oval tracks and get sideways. A unique class for a unique racing experience."
Cross Raid
"Built specifically to overcome tough terrain, our Cross Raid class combines speed, strength and durability for some truly awesome trucks, including the Volkswagen Race Touareg 3 and the Laffite G-Tec X-Road, making its video game debut!"
Pre Runners
"Think of the best road-going SUVs and all-purpose vehicles. Now think of them draped on off-road kit and suped up for extreme racing. That's the Pre-Runners class, featuring incredible race-ready versions of the Aston Martin DBX and Cadillac Escalade 2020."
Rock Bouncer
"Huge wheels, mad suspension, a big rollcage, and that's about it. Oh, and you're in the middle of it all. DIRT 5's rock bouncer is purpose-built to conquer the most intimidating terrain. Use its traction, acceleration and flat-out stubbornness to beat all obstacles in our most extreme events."
Locations
If you've got cars to race, then you need somewhere to race them. This is why DIRT 5 will feature over seventy race routes across ten locations.
Arizona, China, Norway, Italy, Morocco, Brazil, Italy, South Africa, New York, and Nepal will be your destinations. Providing everything from Thick mud to tear through to ice-covered ground to finesse across.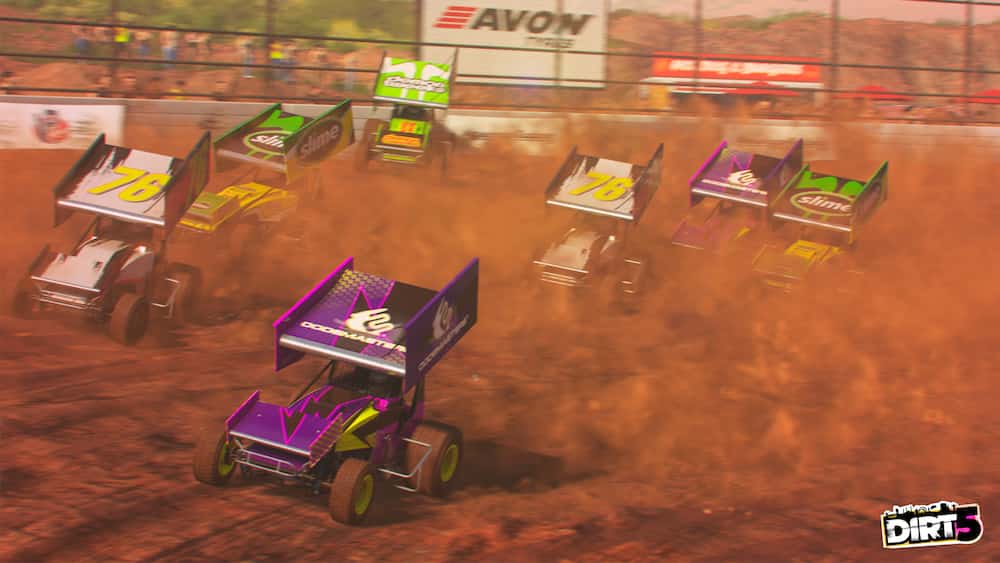 Playground
Maybe you want to design a course yourself. Well, with DIRT 5 you can. Using the new Playground mode, which will let players place objects such as ramps, rings of fire, buses or a giant can of Monster Energy.
Once you've created your masterpiece, you'll be able to share it with the community for fellow players to enjoy. Or you could play someone else's creation if you so desire.
Potentially meaning a plethora of content could be made and played in DIRT 5 proving hours of fun content to design, explore, and hoon on.
Narrative
The single-player career mode in DIRT 5 is aiming to bring some narrative with it. Complete with characters with their own personalities and backstories.
Alex Janiček is one such character, one which is voiced by Troy Baker. Another character is Bruno Durand, who is voiced by Nolan North. At this point, it would be easier to name games these two don't lend their voices to.
As you progress and rise the ranks of the off-road automotive racing world, you'll hear an in-game podcast covering the DIRT 5 world and story. If you're a fan of Donut Media the awesome car channel on YouTube, then you'll be glad to hear that Eric Pumphrey and Nolan Sikes who appear on said channel will be the hosts of this podcast.
Release Date/Next-Gen
DIRT 5 is currently due to be released on October 16th, 2020 on Xbox One, PlayStation 4, PC, and Stadia.
These versions will be joined later by Xbox Series X/S and PlayStation 5 versions on November 10th 2020 and November 12th 2020 respectively.
If you purchase an Xbox One version you'll be entitled to a free upgrade to the Series X version. The same goes for people who buy the PS4 version, who will be entitled to a free PS5 version of DIRT 5.
120FPS
As DIRT 5 is a cross-gen release, the performance of the game varies depending on what system it's running on. However, we do know that DIRT 5 will have an option to run at 120FPS on Xbox Series X/S and PlayStation 5.
If you would like to read into another upcoming racer, then you can take a look at the Forza Motorsport 8 Wish List (the list was written before the actual name of the upcoming Forza was revealed).
Latest posts by Nathan Coe
(see all)