Welcome crypto-newbies. In today's guide we will talk about the best crypto wallets in 2022.For someone who is new to investing in bitcoin or other cryptocurrencies, you should be aware of the fact that crypto wallets are a basic thing you should have, if you want to invest in anything that is connected to crypto. Before listing the best crypto wallets right now ,we are going to explain a couple of things you should know about them before investing and using the same .
What are Crypto wallets?
After purchasing a cryptocurrency like Bitcoin or other, it will be placed on your account exchange or the wallet you have. Buying the cryptocurrency is not the only part of the job, that is where the crypto wallet comes in. As you finish buying any crypto you want, you will need to store that same one on a wallet. Crypto wallets are like a bank or like our physical wallets where we store our money, but in this case we store our crypto. Crypto wallets keep your private keys – the passwords that give you access to your cryptocurrencies – safe and accessible, allowing you to send and receive cryptocurrencies like Bitcoin and Ethereum or any other.
Why do you need crypto wallets?
Without the use of a crypto wallet, you wouldn't be able to trade or have crypto in any kind. Which means that they are a necessary part of the Crypto trading ecosystem. Using an exchange where you bought your crypto as a wallet is the most often option. That especially goes for new users and investors, since this is the least complicated option. Wallets are used to store everything you have in crypto assets and without them you can't trade and be a part of the crypto world. With the possession of a good and quality crypto wallet you will be able to easy access to your crypto assets. You will have the options of managing all your digital assets in one secure place as controlling all of your private keys. You will be able to send and receive cryptocurrency to and from anywhere in the world. You can browse and shop at any stores that accept cryptocurrency.
Types of crypto wallets
After making the purchase, your cryptocurrency will be placed on your account exchange or the wallet you are using. Besides the exchange there are more secure options for storing it. For example having the crypto it in your personal wallet is always the safest option since you gain all the control over the private keys to your assets. It also gives you the ability to store funds away from an exchange and avoid the risk of your exchange getting hacked and losing your funds (It is very unlikely to happen but you never know) .Soo before choosing the right wallet for yourself you should know what wallets exist .They are listed in three main categories ,and those are :Hot wallets, Cold wallets and Paper wallets .
Hot wallets
Hot wallets run on internet-connected devices such as computers, phones or tablets. They are online wallets that store your private keys and assets. These wallets are best for small amounts of cryptocurrency or cryptocurrency that you are actively trading on an exchange. That's because of the fact that their being online can create vulnerability and higher risk of theft since they remain connected to the web.
Cold wallets
In contrast, cold wallets are not connected to the internet, making them a more secure option for holding cryptocurrency. They can be found in forms such as USB or Hard drive devices. They are also referred to as offline wallets since they are not in any way connected to the internet. Making them the safest option for your private keys and assets .But still, nothing is without risk since losing them or losing the key codes to the wallet ,or even if the device should fail in some way ,you may never be able to retrieve you cryptocurrency. It still represents the safest option from thieves and frauds and hacking to.
It is most recommendable for people who store larger amounts of assets. Since you have completely control of everything. But still the question remains is it safe from your mistakes.
Paper wallets
Their names say's a lot about them. They are nothing but physical pieces of paper. That paper contains all the data you need for accessing the cryptocurrencies you have. But in event of losing the paper document you put yourself in the risk of losing all the crypto assets in the wallet. They are time-consuming and they have some limitations compared to the other two . For new investors or even the experienced ones, I don't recommend the use of them ,at least my experience was bad with them.
Now with all that said ,after you know what are crypto wallets and why do you need them ,lets talk about the best ones there are ,their pros and cons and what one is the most suitable for you .
Coinbase Wallet
Coinbase is the most recommended for new users and investors since it's not complicated for use and is a highly secure wallet that is backed by a well-known exchange .The application connects to most major bank accounts which makes it easy for you to invest your money .The interface is easy to navigate ,consisting of a simple three-tab layout .It can used to store NFT's or other digital collectibles, and it also supports over 500 crypto assets.
There's a big difference between the Coinbase exchange and the Coinbase wallet. You don't need to have an account on Coinbase exchange to use the wallet. The pros and cons of this wallet are the next:
Pros:
Only charges network fees
Enables users to store NFTs
Supports 500+ digital assets
Backed by a reputable exchange
User-friendly interface that is easy to navigate
Cons:
Only available on mobile phones and tablets
It had a history of bad customer support
Exodus wallet
It is very visually appealing with a great interface for users. It is one of the best crypto wallets that are out there. It allows users to buy, trade, and earn interest via staking on their digital assets. Users can store and trade more that 180 + digital assets in one place .It primarily stands out with its intuitive, easy-to-navigate user interface that greatly reduces the complexity of managing a portfolio of crypto assets. The popular wallet also provides hardware wallet support for increased security, customizable send fees, and active customer support.
Pros:
24/7 customer support
Compatible with Trezor One and Trezor T hardware wallets
Available on desktop and mobile
Supports crypto staking
Cons:
Software isn't open-source
High transaction fees on the in-wallet crypto exchange
Crypto.com wallet
The Crypto.com wallet is an excellent choice for users who are starting their journey into decentralized finance. The wallets gives the user full control over their crypto assets and private key. It offers a wider range of tools that can earn passive income on the crypto you already own ,and some features that are unavailable to regular custodial wallets .It can be used and downloaded without making an account on Crypo.com's exchange. This wallet is protected by several layers of security, including biometric authentication and 2-factor authentication .Besides the security it gives to the users it also gives the ability to create and connect multiple digital wallets and import other wallets.
Pros:
Ability to earn interest on tokens
Over 100 available crypto assets for trade
Choose your preferred trading fee and confirmation speed
Cons:
Losing your private key means you lose all your crypto assets
Mycelium
Mycelium takes place on our list as one of the oldest best-known bitcoin wallets since the beginning of crypto .It has a simple and user friendly interface which makes it a lot easier to use .It gives the user the option of sending and receiving bitcoin, ethereum and other tokens ,but unfortunately there are not hundreds of available tokens for storing like on other crypto wallets . The wallet is noncustodial ,which means you have all the access to your private keys. It is open-source which means there are more security advantages in that. The wallet application features custom transaction fees with four recommended levels — low priority, normal, economic and priority — and several different types of user accounts.
Pros:
Offers offline transactions
Compatible with popular cold storage solutions (Ledger, Trezor, KeepKey)
In-app crypto exchange and educational material
Cons:
Only supports Bitcoin ,ethereum and ERC-20 tokens
Ledger Nano X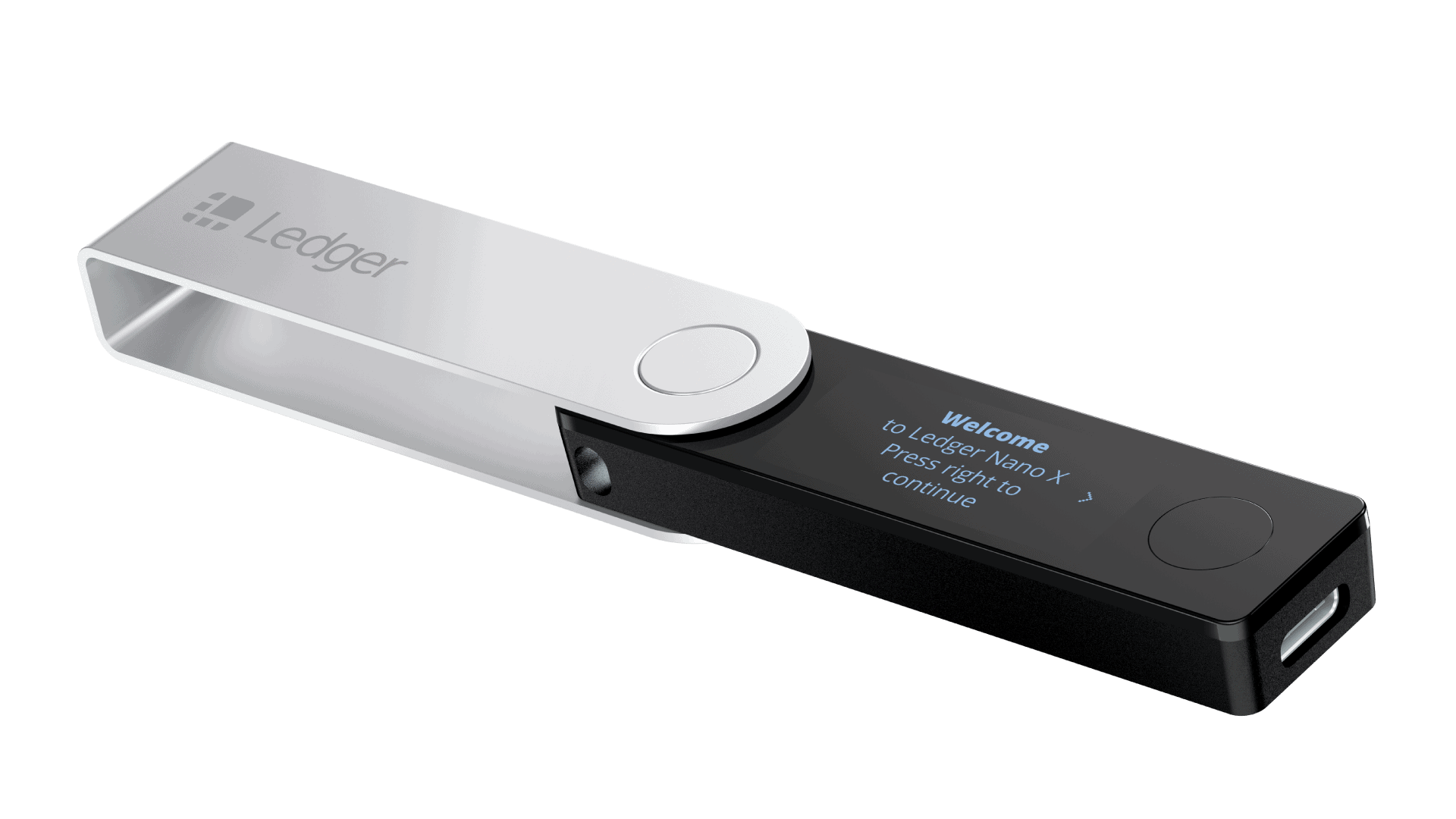 This physical cold storage wallet is one of the most popular and best options for this type of storage. It is easy to learn and use ,supporting more than 1,800 coins and tokens . It connects to your computer via USB cable, it also can be connected to your Android or IOS mobile device via Bluetooth , which makes it available on every platform .Ledger is one of the most well-known brands of hardware wallets available today. It represents the safest option for crypto storage today, with its secure element chip, it offers high end security solutions (for example such as credit cards and passports) that protect form various types of attacks .In addition to buying and selling crypto, the Ledger app can be used to lend and stake crypto to generate earnings.
Pros:
Wallet that supports a very large number of digital assets
Built with special hardware designed to protect your private keys
Most secure wallet in the market
Bluetooth allows trading on the Ledger live mobile application
Possibility to earn interest via the Ledger app
Cons:
No touchscreen
Costs from 100 to 200 dollars
Most expensive wallet in the market
Losing it by your mistake can cost you all the crypto assets you have
Trezor Model T
The Trezor Model T is Trezor's second generation hardware(physical) wallet.
It comes with a lot of the features like the Leedger Nano X .But the biggest difference is that Trezor's software is completely open-source .It is designed to run on desktop,which generally provides greater security than a web-based app, though you can also access Trezor Suite through the company's website .Like the Ledger Nano X it supports a big number of crypto assets, more than 1,600 coins and tokens. It comes with a touchscreen and a SUB cable to connect to your computer ,it also features a microSD card if you want to add encrypted storage directly to the wallet.
Pros:
Supports a large number of crypto tokens and coins
Has touchscreen
One of the safest crypto wallets on the market
Completely open source
Cons:
Does not have Bluetooth option(for mobile devices)
Price is around 200 dollars(costs a lot )
Losing the wallet by your mistake can cost you all the crypto assets you have
We hope you enjoyed our list! Check out the blockchain section on FictionTalk for more crypto news and features.